Computer Space in the Media



Computer Space on radio/ podcasts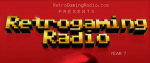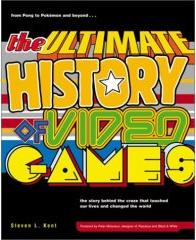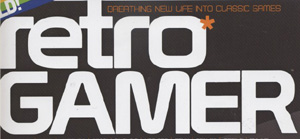 CNBC Special on the history of video games clip
In November 2006, a 2-hour documentary appeared on the CNBC network detailing the history of video games. Everything from Tennis-for-Two right up to the Wii and Playstation 3 was covered. Of course, no such program could exist without at least one reference to Computer Space and there was a very nice, minute long segment. Click here to read more about the show.
This video is not playable in the media player. Right click the logo and choose "Save as" to download the clip.

Nolan Bushnell appeared on the Spike TV show Game Head in March of 2007, discussing his new venture uWink and also talking about his early days in Atari. A very brief glimpse of Computer Space can be seen 1:50 into this five minute long clip.
This Morning on CBS did a spot about a video game exhibit called Videotopia and had an interview with founder Keith Feinstein. Keith introduced CBS to the first video game, Computer Space.
Coin-Op TV had a look in Episode 36 at the warehouse of Videotopia and interviewed Jeff Anderson, Keith Feinstein's partner. The majority of the discussion is about the exhibit however, you cannot help but notice three red and two green Computer Space units in the background.
The following is a short video also covering Videotopia and another interview with Keith Feinstein. Apologies for the low audio, bad video quality and off-center image..
SN10439 was recently showcased on The Electric Playground www.elecplay.com . The following videos also do not play in the media player. Right click the underlined link and choose "Save as" to download each video.
In this clip, SN10439 can be seen in story they did about the formation of Atari.
In this clip, SN10439 appears to be a cohost of the show as the machine appears prominently throughout the same episode.
On G4 Tech TV there was an excellent show called "Icons" which had two episodes mentioning Computer Space. Episode 2 of their first season was devoted to Nolan Bushnell and all his creations, while episode 8 of the second season was all about the birth of the video arcades. Alas, since the following two clips are briefly touching on Computer Space, the same clip of Steven Kent appears in both segments so apologies for the repetition.
Also on G4 Tech TV, Victor Lucas and Tommy Talarico who hosted The Electric Playground ran another show called Reviews on the Run (still in production with Victor Lucas today). They once compared the Sony PSP against the Nintendo DS and one feature they showed for the PSP is the ability to watch videos. The producers obviously decided to use some footage from Electric Playground and as irony would have it, they chose a scene of Tommy Talarico standing in front of Serial Number 10439. I say 'ironic' because if ever there were two opposing extremes of computer gaming, you probably cannot get much farther than Computer Space and a PSP.
The musical group Cornershop made a music video for their song "Brimful of Asha" which sported a Computer Space in the background. Here is that music video.
SN30482 appeared in the Nov 27th episode of EP Daily, though the episode was mostly talking about new music in their section called The Sonar. SN30482 sits in Zulu Records in Vancouver, B.C. and as you can see from the screen capture below the game can be seen in the background of the store. The media link below is from EP Daily's website is no longer viewable.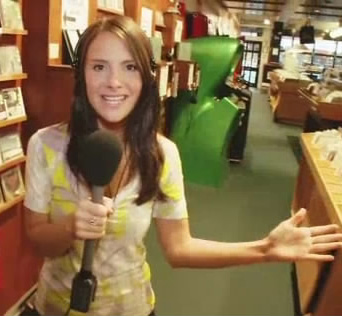 The Irate Gamer runs a series of online videos discussing video games in depth. He did an episode in which Computer Space and Spacewar are talked about at length. Ironically, the Computer Space Simulator from this very own website is used in his show (thanks for the kudos Irate Gamer!).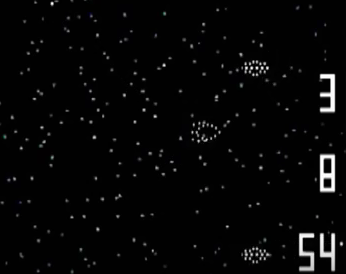 Computer Space was on the X-Files
As seen in this image from the Season 3 Episode "D.P.O." (third episode) from October 6, 1995. Agent Scully investigates lightning-related deaths in Connerville, Oklahoma. The episode gets its title from the high score initials of Darren Peter Oswald who is arguing his score in Virtua Fighter in the local arcade. In the background of the arcade can be seen a green 2-player Computer Space. It is likely the same unit SN30482 mentioned above from Zulu Records as X-Files was filmed in Vancouver, BC.
Computer Space on radio / podcasts
The Nintendo-related podcast called Infendo is one of my favorite podcasts to listen to and they host a segment called This Week in Gaming History by Roscott. In May of 2008 I could not resist advising Roscott that the 35th anniversary of Soylent Green was coming up on May 9th. Roscott was good enough to spotlight the movie and Computer Space on the episode that aired May 13th.
Another favorite podcast is RetroGamingRadio hosted by Shane R. Monroe and in August 2008 he briefly discussed SN10207 the Computer Space unit that sold on eBay for $10,100.
Alas RetroGamingRadio is no more and it will be sorely missed. However, some of the contributors to that show have gone on to make a new show, RetroGamingRoundUp and one of the hosts, Scott Schreiber aka Subarubrat is a fellow Computer Space owner who has contacted this website on a regular basis with facts, info, and questions. Scott is a great guy. During the launch episode of RetroGamingRoundUp, Scott was gracious enough to say some kinds words about this Computer Space website.
Wired Magazine had an issue detailing the video games industry, its history, and its future. Within its pages, a boardgame-style chronology of significant games throughout history were shown and Computer Space made its mark right next to the Odyssey and Pong.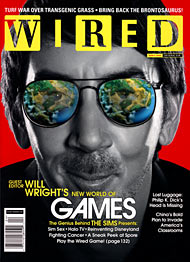 To see the entire chronology, click on the three links below for each section (it was a very large item to scan) or just go buy the magazine.
Left section Middle section Right section
Early in 2006, Retro Gamer magazine posted an article interviewing Archer MacLean and in the article, detail was given on his Computer Space. Click the logo below to see the magazine cover plus article, click here to see Archer's machine in my database of people's Computer Space's.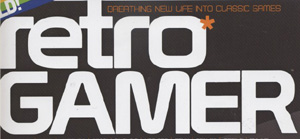 There are many books
about the history of video games. Two that make direct reference to Computer Space.
The first is the excellent and highly regarded book by Steven L. Kent "The Ultimate History of Video Games," also found under its original title "The First Quarter." In this highly detailed volume, Kent goes into intricate detail on the entire history of all video games in depth. Only a few passages discuss Computer Space, unfortunately, but click on the cover of the book below to read what Kent has to say.
In addition to this book, another shows some of the most signficant game machines released with great photographs and a timeline indicating some of the important issues of the year in question. The book is "Arcade Fever" by John Sellers. There is a two-page spread about Computer Space at the beginning of the book. Click the links below to see these pages.
Additionally, this very own website was mentioned in a Russian magazine. Click on the image to see the Russian page. The Russian article has also been translated. Click here to read what it says.
An Italian visitor recently advised me of an old magazine he had featuring a coin operated trade show in March of 1972 in Milan. The sellers, a company called TDS, were apparently not even game distributors, instead specializing in other vending machines and coffee makers. He sent the following photograph and a Computer Space is clearly visible in the trade show. In fact, TDS was obviously a Nutting Associates distributor because right beside the machine is a Computer Quiz. He will be publishing this image in his book regarding video game history in the near future. His website is www.tilt.it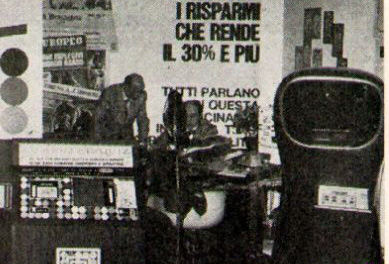 Click image for a larger version
Technologizer ran an indepth article on Computer Space, the early days of Nutting and the eventual launch of Atari. The article contains some good information worth a read.
A rare yellow Computer Space appeared in the TV series Elementary on an episode called "One Watson, One Holmes." The machine was background decoration in the home of a slain hacker. As to why there are stickers all over the machine my guess is the show makers thought Computer Space looked a little bland without extra bells and whistles. The machine does not show up again anywhere else in the show.
A two-player green Computer Space shows up in a Latvian music video called "Secrets" by Tiesto & KSHMR featuring Vassy. Due to YouTube restrictions I can only link to the official music video. Click on the image to be taken there.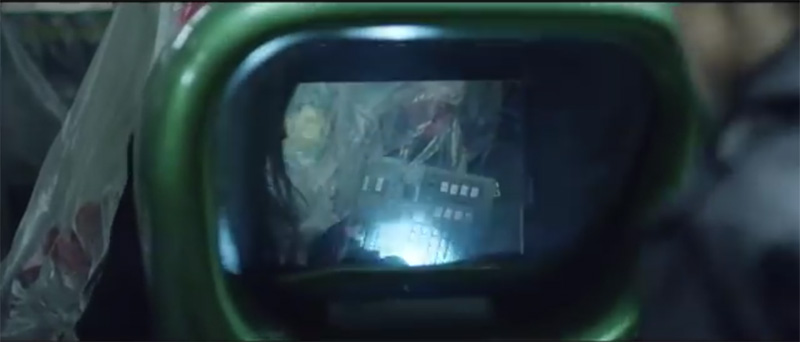 The Computer Space shows up in a couple of scenes but find the 1:22 mark to see this shot.